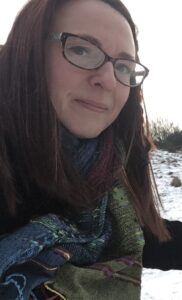 A. J. Ashworth is the author of the short story collection Somewhere Else, or Even Here, which won Salt Publishing's Scott Prize, was nominated for the Frank O'Connor International Short Story Award and shortlisted in the Edge Hill Prize. The TLS said of her work: 'A. J. Ashworth's first collection of short stories displays impressive versatility. She treats each of her characters to their own narrative timbre – and the stories do not progress so much as accrue, collecting incidental detail that enriches the scenarios without pointing towards their resolution.'
She is also the editor of Red Room: New Short Stories Inspired by the Brontës, in aid of The Brontë Birthplace Trust. She has won funding such as an Arts Council England grant, a Society of Authors K. Blundell Trust Award and, most recently, a Society of Authors Authors' Foundation grant. She has previously won the Baltic Writing Residency in Scotland and was also a Hawthornden Fellow. She has a PhD in Creative Writing from Edge Hill University, Ormskirk, and is currently working as a Lecturer in Creative Writing there. She is also an Associate Lecturer at the University of Lancaster as well as an Associate Editor of the journal Short Fiction in Theory and Practice. She is now writing more short stories for a second collection – one of which was selected for Best British Short Stories 2021 and another shortlisted in the Short Fiction International Short Story Wild Writing Prize. Her non-fiction essay 'Eight', about her panic disorder and anxiety issues was published in What Doesn't Kill You: Fifteen Stories of Survival (Unbound, 2020).
Please get in touch through the contact form on this website if you'd like to discuss a commission, reading or other project.