Somewhere Else, or Even Here is a collection of 14 short stories which explore the collisions that can happen between human beings, whether it's a couple facing up to life after the death of a child or lovers broken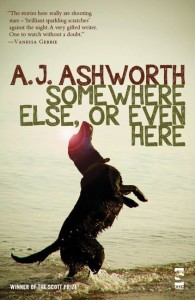 apart by infidelities either real or imagined. A girl meets with danger on the beach when she is lured away by a strange boy; a bereaved wife enlists the help of a mysterious woman to perform rituals that will bring her dead husband back to life; a boy's anger at his absent father leads him towards an act of destruction in the basement of his school.
'Dark, witty, delicious stories with flashes of terror and tenderness' – Maggie Gee.
'With beauty, poise and fearlessness, A. J. Ashworth creates worlds that are chillingly real, exploring the raw human need for attachment and the fear of closeness in a way that is both tender and haunting. She is a fierce new talent' – Simon Van Booy.
'The stories here really are shooting stars – 'brilliant sparkling scratches' against the night. A very gifted writer. One to watch without a doubt' – Vanessa Gebbie.
Available from Salt, Amazon and other bookshops.
---
Red Room: New Short Stories Inspired by the Brontës is a collection of 12 stories by some of Britain's best writers. Edited by A. J. Ashworth, it contains Brontë-inspired work by the likes of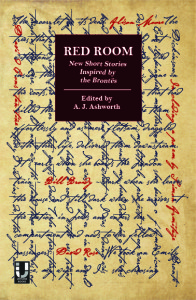 Booker-shortlisted Alison Moore, BBC National Short Story Award winner David Constantine, V. S. Pritchett Prize winner Carys Davies and many more.
The book features a demon sheep, strange curates, acts of rebellion and acts of violence. There is love made and love ruined, parents lost and children found. A percentage of the profits from sales of the book will be donated to The Brontë Birthplace Trust.
The book is available from Unthank Books, Amazon and other bookshops.