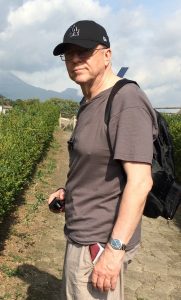 'I realise now that the most valuable thing I learned over time was to shrug rejection off. Like a beating from a wooden sword in gladiator school.'
For my third interview, I'm talking with Stephen Gallagher – a novelist, short story writer and screenwriter (as well as director). When I was growing up in Lancashire and wondering about writing, Stephen was the only writer I knew of who lived nearby, which really helped to inspire me into believing writing could be more than just a dream. He is well known for his associations with Doctor Who, for which he wrote novelisations and scripts, and for books such as Rain (which I have great memories of reading and loving while I was under the weather and the rain poured outside), Down River, Oktober and Chimera, both of which he adapted and directed for television. He also wrote and developed Eleventh Hour (which starred Patrick Stewart and was later acquired for a US remake starring Rufus Sewell). More recently he wrote an episode of Lucky Man (starring James Nesbitt). Stephen's most recent books are a historical series featuring former police detective Sebastian Becker – The Kingdom of Bones, The Bedlam Detective and The Authentic William James – and a short story collection, Plots and Misadventures.
AA: You've had a long and successful career as a short story writer, novelist and screenwriter (as well as director). Focusing specifically on short stories and novels, have you experienced much rejection from editors or publishers over the years?
SG: The novel-writing element of my career has been through at least three major phases so, yes, there have been times when a relationship with a publisher has ended and I haven't automatically bounced into a new one. When that happens you have to write something new and then shop it around. That's actually trickier mid-career than when you're a new voice.
With short fiction, not so much. Mostly that's because certain editors approach me for material. They can still reject what I come up with, but it's not the same shot-in-the-dark as a story written and sent out on spec. Also, I'd written a lot of long-form prose before I seriously tackled the short form. So it wasn't where I learned the craft and took the knocks.
AA: How did you react to rejections when you first started out?
SG: Hurt and depressed, I suppose, taking rejection personally just like everyone else, but I realise now that the most valuable thing I learned over time was to shrug it off. Like a beating from a wooden sword in gladiator school.
AA: Did they ever threaten to stop you from writing?
SG: Quick story. My second novel tanked with very low sales and the publisher rejected my third, claiming that it wasn't of publishable quality. That was Oktober. Everyone else in town rejected it too, and during the year it spent going the rounds I wrote The Boat House, which no one would even look at. I started a short story that I hoped would pay a few bills and bolster my flagging morale.
The story grew in the writing and I saw to my dismay that it was going to be yet another novel, but I pressed on and completed it. That was Valley of Lights. Hodder and Stoughton bought it for their relaunched New English Library (NEL) imprint.
NEL then got behind me, buying Oktober and The Boat House as well as rereleasing those two early novels. All the titles sold foreign rights and film options while Oktober became an ITV miniseries.
It was the kind of good fortune you can't plan for, other than to be always throwing yourself in fortune's way. I'd love to tell you that I kept going because I had faith. The truth is that I kept writing because it was the only aspect of the situation that I actually controlled.
AA: When was the last time you experienced rejection?
SG: In novels? End of last year. I've a historical novel series (AA: the Sebastian Becker novels) that's had critical success but a rocky publication history – the senior editor who bought it was ousted in one of those corporate bloodbaths where her personal imprint was cancelled and all her commissions orphaned, my series included. The second book got multiple starred reviews and was one of the Kirkus 100 best of the year, but I was told straight out that they wouldn't take a third. Rejected before it was even written! It's the famous Snoopy cartoon made real.
But I still wrote the book. Just like before I had to get it out of my system, and the response tells me it was worth it. Subterranean Press picked it up and have issued a gorgeous limited edition hardcover. That's out now. I've no idea what will happen over a paperback.
AA: Has the way you deal with rejection changed over time?
SG: It gets so you're always kind of braced for it. Which can make it hard to feel unbridled joy when something does get picked up, because you've so many protective mechanisms in place.
AA: You've written successfully for television (as well as for radio) many times, but I know that some of the projects you've worked on have failed to make it to production. Has this been hard to deal with, especially if you've invested a lot of time in them?
SG: I could run my own channel with my unmade projects, but you have to take a long view. Especially in British TV, where everything moves so slowly that you can hear your own hair grow. I will say that I love the American system, which is brutal, fast and full of energy. Even if you have a near-miss, you know you're playing a championship game. Last year I had a spec TV pilot that sold to ABC Studios. We cleared all the hurdles and just needed the network president's nod for a straight-to-series order. At that point Spielberg offered him a show, and he handed over the slots that we'd been lined up for. That was hard. But you bounce.
AA: Do you think rejection can ever be a good thing for a writer? Are there benefits to it?
SG: I'd never advocate pain for its own sake. But it's useful to know first-hand that it does you no actual harm. Then you needn't shy from it.
AA: I've heard some people – writers, for example, or those working in the publishing industry, publishing commentators as well as others – say that it's harder to get published via traditional routes nowadays. Do you think that's the case? And if so, why is it? And what can writers do about it?
SG: I do think it's the case and it's a pity, because for me the traditional route – working with experienced professionals at every level – still outclasses all others. But publishing's in disarray. After a decade in the field I saw the culture move away from editor-led to a marketing-led business. But the abolition of the net book agreement gave those marketing departments a huge problem. Books have no value now. I mean, literally. They're knocked out cheap in supermarkets or three for a fiver in The Works. One of my local pubs has a shelf of paperbacks for anyone to take. Most new titles can be had for a penny on Amazon. That lack of value's reflected in their production, shoddily-printed bricks of paper with stock photo covers. If people turn to e-books they'll pay top dollar for a reader and next to nothing for content.
But how to turn that dispiriting observation into advice? If only I had some secret knowledge, but I don't. Your best bet as a writer is to study the lists of those smaller, independent imprints that are flourishing where the majors are struggling. Absorb their ethos. Keep your sights high, and avoid the temptation to think that self-publishing offers a panacea.
AA: What do you think writers should do if they're being rejected for 'commercial' rather than 'artistic' reasons? For example, a book with black or Asian characters may struggle to find a publisher because an editor may not think there's enough of a market for it. Do you think there's a point at which talent will break through regardless?
SG: I can't tell you for sure that talent will break through. That's only guaranteed in fairy tales and motivational speeches. What I can say is this; I've seen talented people fall by the wayside for lack of persistence, while persistent people have succeeded with no talent.
AA: One of my first rejections – for a short story I wrote about 20 years ago – said 'Not good enough for us' and, even though it was painful at the time, they were right. It wasn't good at all. I was still learning what a short story could be. What should newer writers do, especially if they're receiving rejections such as that?
SG: As rejections go, that was unnecessary and unkind. I got my first rejection when I was around eleven – from the editor of The Rover and Wizard, my weekly comic, to whom I'd sent a handwritten story – and it was both honest and encouraging. If a rejection isn't both, console yourself with the thought that it doesn't come from a first-rate editor. And move on.
AA: Has rejection made you into the writer you are today?
SG: Oh, for sure. Our successes are the end products of all our failures. If you're given everything you want right away, that's as good as you're ever going to get.