Sarah Dobbs reading from 'Killing Daniel'. Below: Sarah, Debz and I.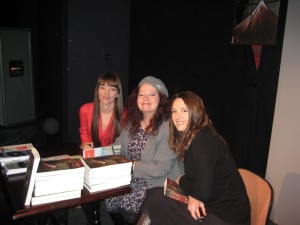 I had a lovely time reading at the launch for Sarah Dobbs' novel 'Killing Daniel' in Salford earlier this month. I read from my story 'The Monolith' which features in Unthology 3 (a collection of stories from Unthank Books which also features a piece by Sarah). Fellow Unthologist Debz Hobbs-Wyatt also read her story 'The Theory of Circles'. Sarah then read a selection of excerpts from her book – a literary thriller – and kept the audience enchanted throughout. (You can read more about the launch at Sarah's blog here and Debz's blog here.) I wish Sarah the best of luck with the novel – go buy a copy and treat yourself to a cracking read.

In other news: I  was recently interviewed by Laura Besley over on her blog. Also, I'm just a bit happy about having been awarded a K. Blundell Trust Award from The Society of Authors for my novel-in-progress – a lovely surprise just before Christmas. Finally, here are links to those who took up the Next Big Thing challenge after I tagged them earlier this month: Gill Blow and Cassandra Parkin.
Happy Christmas!